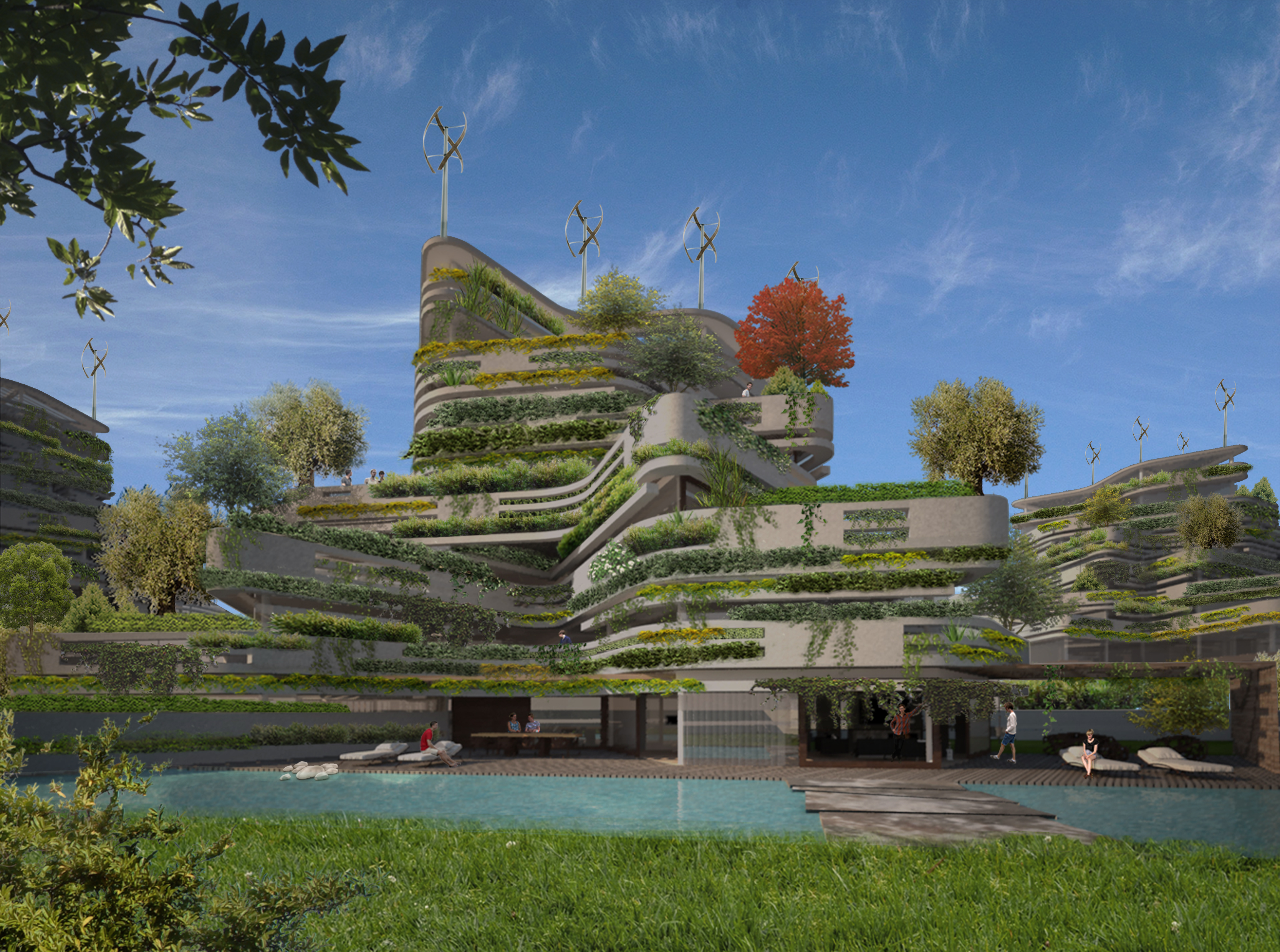 Vertical Villas è un progetto che propone una alternativa al consumo di suolo da parte di abitazioni medio grandi. Un idea che fonde sostenibilità ambientale e strategie di contrasto all'inquinamento di CO2. Immagina l'equivalente di piccole ville suburbane multipiano edificabili in ambiti urbanizzati. Sviluppate in altezza di 4, 6 livelli di circa 20 appartamenti ciascuna, come un albero  di conifera composto da grandi rami che si rastremano via via verso l'alto.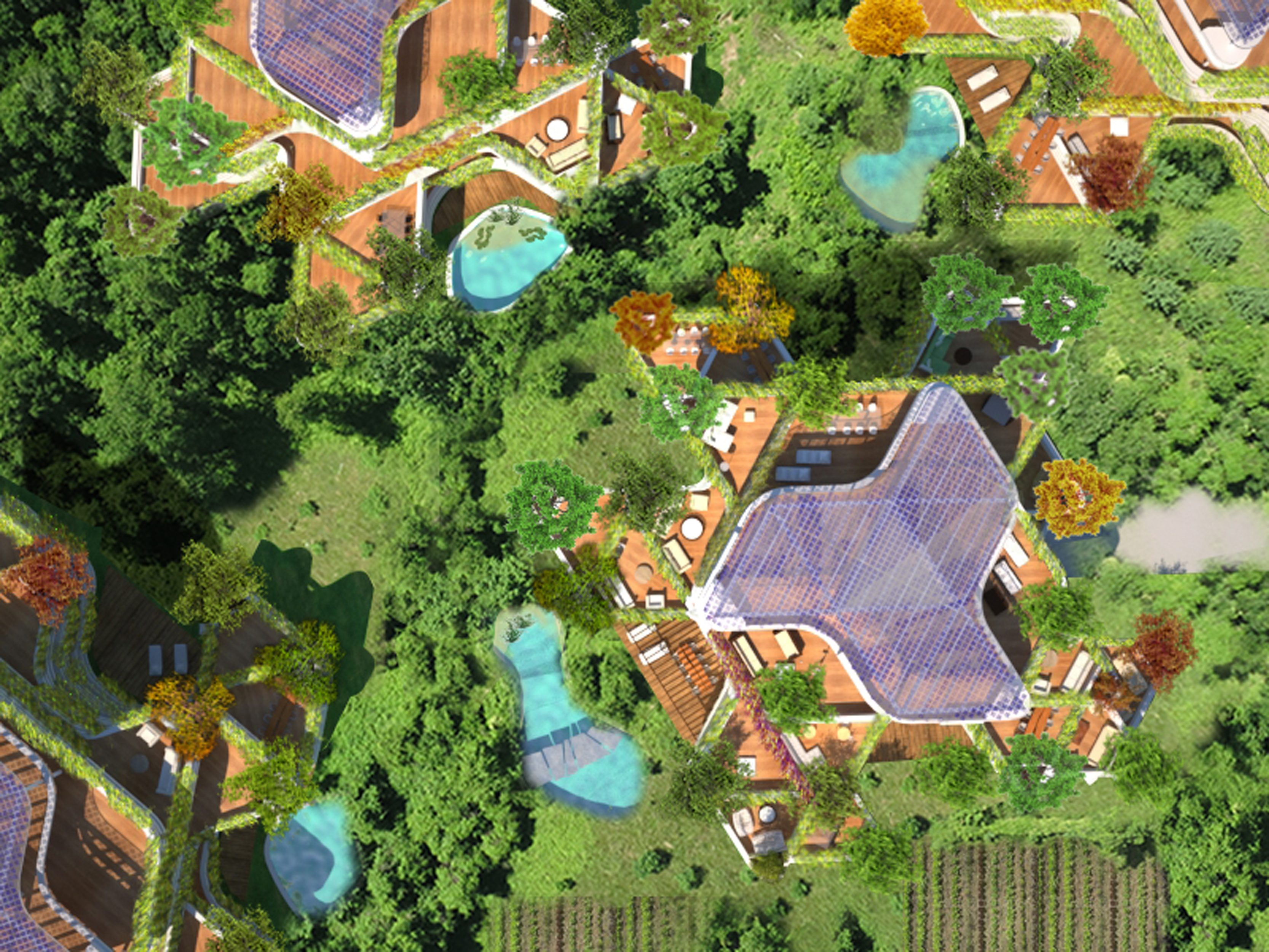 Accolgono al suo interno unità abitative di vario taglio. Lussuosi appartamenti al piano terra definiti da ampie vetrate, con piscina naturale e ampio giardino verde, mentre per i piani superiori  gli appartamenti sono circondati da un terrazzo continuo protetti da un parapetto capace di schermare e di contenere varie essenze di verde questo da la possibilità a un uso diffuso di vetrate godendo di paesaggio e luce naturale. Le terrazze culminano con un grande spazio capace di accogliere un vero e proprio soggiorno all'aperto con alberi di medio fusto oltre ad arbusti cespugli e fiori.
L'insieme di queste conifere abitate realizza un vero e proprio bosco urbano.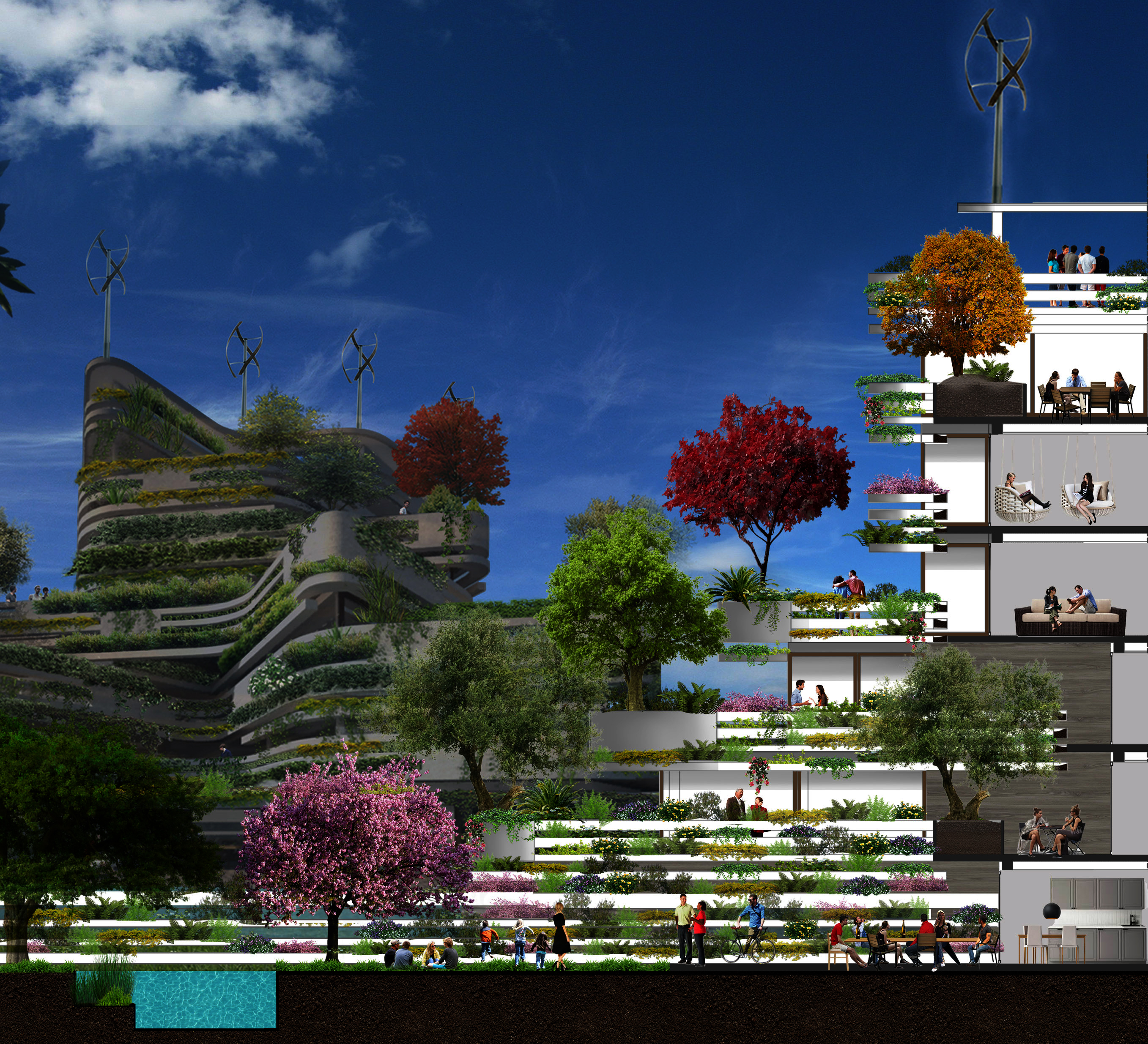 VERTICAL VILLAS
It is a project that proposes an alternative to land consumption by medium to large houses. An idea that combines environmental sustainability and strategies to combat CO2 pollution. Imagine the equivalent of small multi-storey villas that can be built in urbanized areas.
Developed in height of 4, 6 levels of about 20 apartments each, like a conifer tree composed of large branches that taper gradually upwards. Inside they house various types of housing units.
Luxurious ground floor apartments defined by large windows, with natural swimming pool and large green garden, while for the upper floors the apartments are surrounded by a continuous terrace protected by a parapet able to screen and contain various types of greenery, this gives the possibility to widespread use of windows enjoying landscape and natural light.
The terraces culminate with a large space capable of accommodating a real outdoor living area with medium-sized trees as well as shrubs, bushes and flowers.
All inhabited conifers create a real urban forest.
Tipologia: residenziale
Luogo: Roma
Anno: 2017
Team: Valerio Cruciani, Federica Cecchi, Angelica Runkel, Marta Giannini.