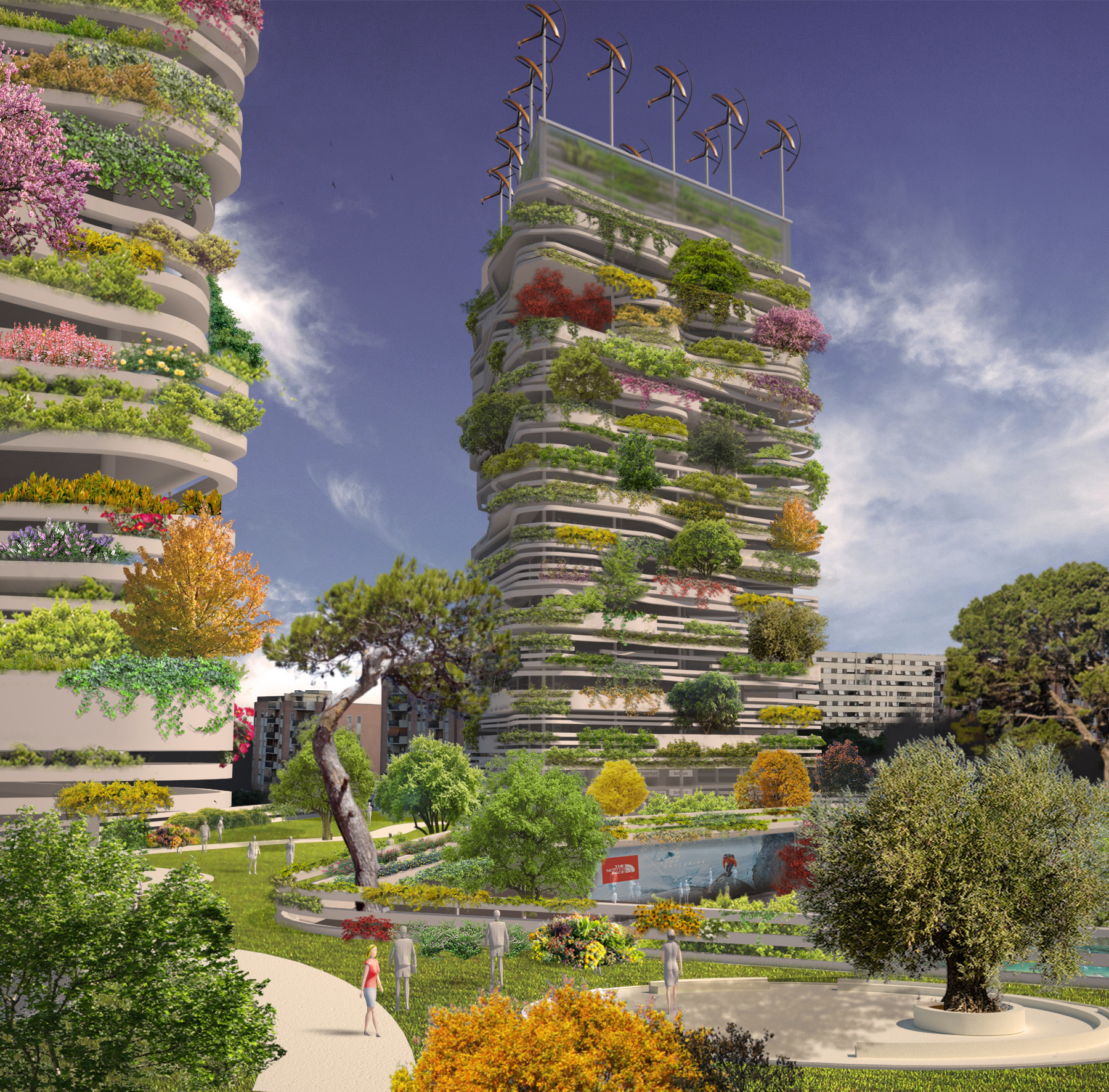 Green Tower è un progetto residenziale di rigenerazione urbana per il recupero di aree in forte degrado e scarso utilizzo urbano, nel cuore del denso quartiere periferico di Roma est, sulla via Tiburtina. In un contesto urbano con edifici residenziali di 8 , 10 piani che si fronteggiano in un continuo costruito grigio, generando una ombra costante per gran parte del giorno, privo di qualsiasi forma di verde eccetto sporadiche alberature bordo strada.
Si immagina un diverso approccio composto da un design più denso ma rarefatto capace di aprire a grandi squarci di luce attraverso la progettazione di alte torri completamente avvolte da un verde denso e colorito, che poggiano su un grande contenitore, all'interno del quale sono presenti una galleria commerciale e servizi di quartiere.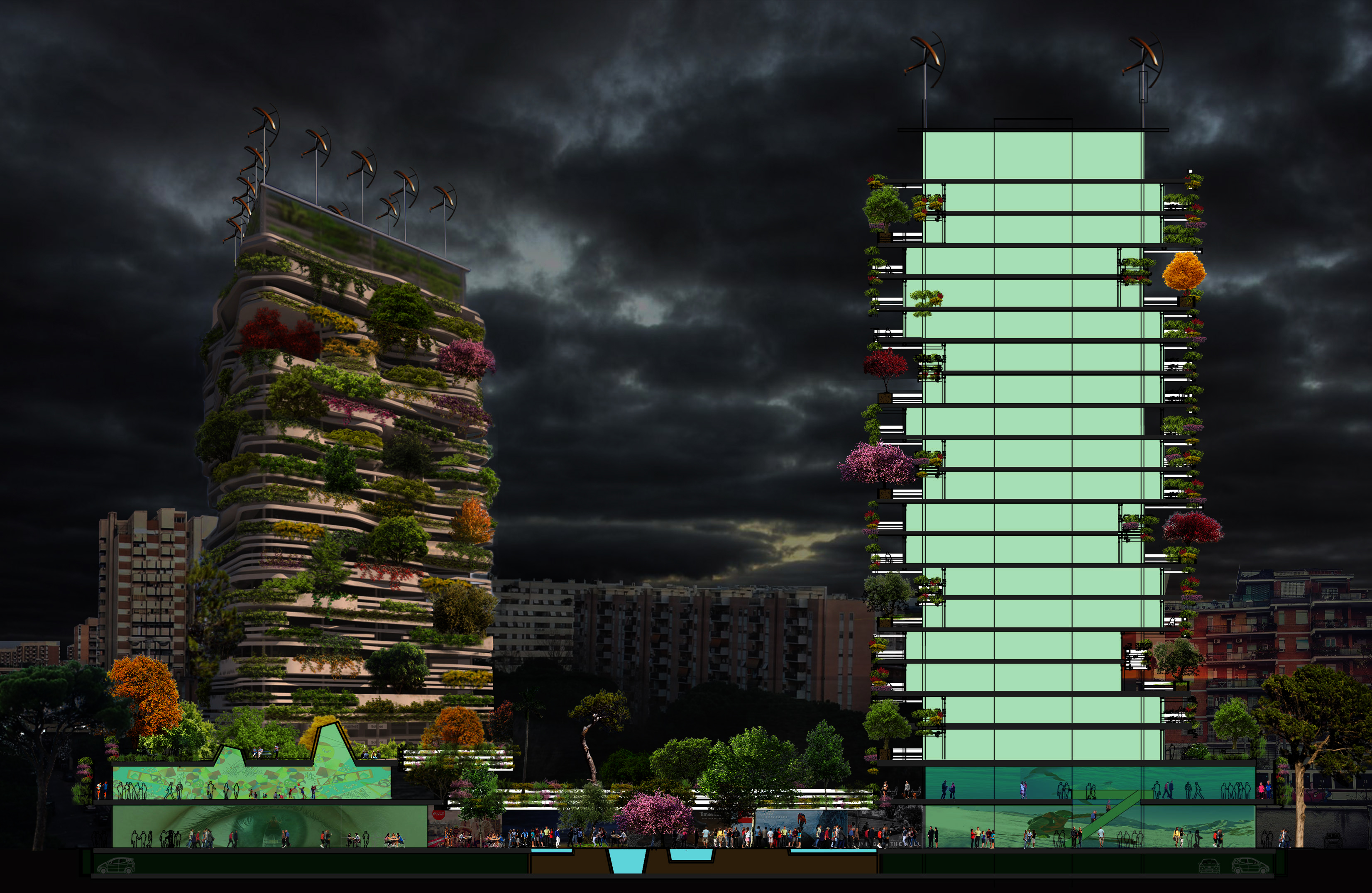 La copertura a tetto giardino, restituisce alla comunità  una importante area verde, con funzioni ludico ricreative e una scuola materna.  Le torri residenziali di diversa altezza tra i 15 e i 20 piani, sono rivestite da una pelle verde composta da terrazzi continui che avvolgono gli appartamenti immergendoli in una sorta di giardino verticale, capace di proteggere e schermare gli spazi interni residenziali, regalando agli angoli ampie terrazze, capaci di contenere veri e propri soggiorni all'aperto con alberi di medio fusto, arbusti ed essenze diverse. 
Le torri si concludono con un tetto giardino progettati  per ospitare orti urbani con serre verticali per la coltivazione intensiva, al disopra della quale un sistema misto di fotovoltaico e pale micro eoliche, garantisce parte del fabbisogno energetico.  Il progetto oltre a recuperare le acque meteoriche per l'uso sanitario e l'irrigazione del verde, è capace di assorbire una quantità di CO2 paragonabile a un parco verde di 2 ettari.

Green Tower
It is a residential urban regeneration project for the recovery of areas in severe degradation and poor urban use, in the heart of the dense suburb of East Rome, on Via Tiburtina. In an urban context with residential buildings of 8, 10 floors facing each other in a continuous gray construction, which generates a constant shadow for most of the day, devoid of any form of green except for sporadic roadside trees.
We imagine a different approach consisting of a denser but rarefied design capable of opening large gaps of light through the design of 4 tall towers completely enveloped by a dense and colorful green. With a triangular base they stand on a shopping arcade and neighborhood services.
The roof garden, gives back to the community an important green area, with recreational functions and a primary school. The residential towers of different heights between 15 and 20 floors are covered with a green skin composed of continuous terraces that wrap around the apartments immersing them in a sort of vertical garden, able to protect and shield the residential interior spaces, giving large terraces at the corners, able to contain real outdoor living space stays with medium-sized trees, shrubs and different essences.
The towers end with a roof garden designed to host urban vegetable gardens with vertical greenhouses for intensive cultivation, above which a mixed system of photovoltaic and micro wind turbines ensures part of the energy requirement. The project, in addition to recovering rainwater for sanitary use and green irrigation, is able to absorb a quantity of CO2 comparable to a 2-hectare green park.
Tipologia: mix residenziale e commerciale
Luogo: Roma
Anno: 2017
Team: Valerio Cruciani,Federica Cecchi, Angelica Runkel.